I have always felt very lucky to be living on the shores of Cork Harbour- what an amazing place – a cruising ground in it's own right! If I exit Cork Harbour I have Oysterhaven only 10 miles away with Kinsale 3 miles further. It's only an 11 miles hop to scenic Courtmacsherry with Glandore Harbour 20 miles away. The lovely Castlwtownsend is just 4 miles further and the mecca of Baltimore some 10 miles down the coast. Schull, Cape Clear and at least a dozen of Carbery's Hundred Isles are all within 7 miles and only 12 miles to Crookhaven – gateway to the Mizen and points further west! We are spoilt for choice – I'm hoping to get to some of these fantastic ports of call on the June Bank Holiday Cruise aboard Holy Grounder!
Cruising Cork Harbour is definitely the subject for a later blog…. not many places where you can sail 17 miles from port to port within a harbour! But this blog is about the Cork Coast– and what a coastline. Stretching from the historic port of Youghal in the East to the pretty harbour of Ardgroom on the Kerry border – a total distance of over 120 miles headland to headland – the distance is more than quadrupled with the fantastic indentations that make the Cork coastline so special. I am luck enough to have been going"West" from Cobh for over 45 years and skippering boats on that well worn track hundreds of times over the last 40!
This year I hope to skipper "Holy Grounder" on several voyages on the Cork coastline. As a once off I am really looking forward to sailing the luxurious Oyster 80 "Zig Zag" on the coast and hope to offer SailCork customers the opportunity to sail aboard her on the Cork coastline and on the trip of a lifetime to the UK! (Special web page coming soon- call office for details 021 4811237). Here is a very quick guide to the fantastic ports of call on the Cork coastline. I have included links to Burke Corbett's fab site "In your footsteps" I also recommend the Irish Cruising Club Pilot book as well as a Cruising Guide to Cork and Kerry (Swanson ) and the Southern Ireland Cruising Companion- all are available from SailCork or call 021 4811237. Don't forget to use Google Earth to look at the coast and SailCork stocks all the relevant charts.
Cork Coast East – Youghal to Old Head of Kinsale
See our page on Cork Coast Old Head to Mizen
So we begin our quick guide in the very East of the county where the river Blackwater enters the sea at Youghal (pronounced Yawl)
Youghal – the most easterly point in Co. Cork. An historic seaport. Home of poet Spenser and of spud king Walter Raleigh. You can feel the history in the streets. Tons of pubs and several restaurants. Great seafaring tradition in the past. Inshore lifeboat based here and good angling centre. Local sailing club has been re-jigged and hopes to become more active. Don't forget the "bar" on the way in as well! Best anchorage on far side of Blackwater off Ferrypoint. Can anchor off Town Hall but strong tides and not tenable in southerlies. Possible to lie alongside the commercial berth if no ship in town. "In your footsteps" guide.
Ballycotton – A lovely picture postcard fishing village. Home of the Ballycotton lighthouse and famous lifeboat. Some nice pubs ashore and good restaurant just up the hill form the pier. A great fishing village with a long tradition – the sea's influence is everywhere. The world famous Ballymaloe House is just up the road in Shanagarry. You can only drop and collect at the steps in the harbour – there are some moorings outside. "In your footsteps" guide.
Cork Harbour– including Crosshaven, Spike, Haulbowline, Whitegate, Aghada, East Ferry, Rathcoursey, Ballinacurra, Cobh(pronounced Cove), Monkstown, Passage, Fota, Little Island, Cork City, and more……………….. blog later this year but In case you want to visit before I get around to writing the blog here is the link to "in your footsteps" More on Cork Harbour here
Oysterhaven- Unspoilt anchorage- no shore facilities – just peace and quiet! (Although half a mile up the western creek there is a hotel 5 mins walk up the hill!) The Sovereign rocks lie offshore and provide some protection from southerlies and make the entrance very easy to find. Nice and close to Kinsale. Jamie Dwyer has oyster and mussel beds here and the Oysterhaven Activity Centre is in the eastern creek. Be aware of the harbour rock! "in your footsteps" guide
Kinsale- One of the jewels on the crown! Historic town really well geared up for visitors. Tons of good pubs and great restaurants- my favourites are Crackpots and Fishy Fishy- and my favourite pub is Mary O' Neills "Tap Tavern" – others include "The Spaniard" and the "Bullman" in Summercove. There are three marinas, moorings and anchoring is possible (but watch the moorings and tide) Make sure you explore the town and "Charles Fort" at Summer Cove just over a mile outside the town. Kinsale Yacht Club is very active and runs the excellent bi-annual regatta- "the Sovereigns Cup". – this regatta is run every uneven year. Kinsale gets a little crowded at weekends especially during August. "in your footsteps" guide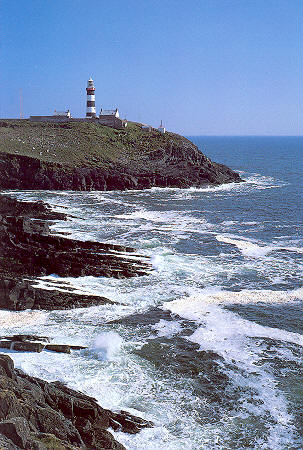 The Old Head of Kinsale – is like the entrance gate to West Cork. This lighthouse is set dramatically on cliffs on a long headland which is also home to a world class golf course…….fore!!!!!!!!……watch out for flying golf balls! Next week we will move beyond the Old Head to West Cork and continue our journey on this amazing coastline.
See the rest of the Cork Coast – Cork Coast Old Head to Mizen
For fab photos read Joleen Cronins book or get photos directly.
Get a taste of next weeks blog and read about West Cork from a previous blog.
Get a taste of next weeks blog and read about West Cork from a previous blog.
More Courses You May Find Interesting