We are blessed in Ireland with a magnificent coastline – there are very many beautiful places but for my money the best cruising ground is Cork and Kerry. Besides amazing scenery on our coastline there are lots of great ports and safe anchorages full of character. A voyage on this coastline makes for a memorable holiday. This blog explores the coastline from Youghal in East Cork to the north Kerry and the Sahnnon Estuary. I am lucky enough to have sailed these waters for nearly 50 years and I want to share some of my insights and tips……………………….
The Cork and Kerry Coast- what a coastline. Firstly we will have a look at County Cork – stretching from the historic port of Youghal in the East to the pretty harbour of Ardgroom on the Kerry border – a total distance of over 120 miles headland to headland – the distance is more than quadrupled with the fantastic indentations that make the Cork coastline so special. I am luck enough to have been going"West" from Cobh for nearly 50 years and skippering boats on that well worn track hundreds of times over the last 45!
This year I hope to skipper "Holy Grounder" on several voyages on the Cork coastline.
Here is a very quick guide to the fantastic ports of call on the Cork coastline. I have included links to Burke Corbett's fab site "In your footsteps" I also recommend the Irish Cruising Club Pilot book as well as a Cruising Guide to Cork and Kerry (Swanson ) and the Southern Ireland Cruising Companion- all are available from SailCork or call 021 4811237. Don't forget to use Google Earth to look at the coast and SailCork stocks all the relevant books and charts.
Cork Coast East – Youghal to Old Head of Kinsale
See our page on Cork Coast Old Head to Mizen
So we begin our quick guide in the very East of the county where the river Blackwater enters the sea at Youghal (pronounced Yawl)
Youghal – the most easterly point in Co. Cork. An historic seaport. Home of poet Spenser and of spud king Walter Raleigh. You can feel the history in the streets. Tons of pubs and several restaurants. Great seafaring tradition in the past. Inshore lifeboat based here and good angling centre. Local sailing club has been re-jigged and hopes to become more active. Don't forget the "bar" on the way in as well! Best anchorage on far side of Blackwater off Ferrypoint. Can anchor off Town Hall but strong tides and not tenable in southerlies. Possible to lie alongside the commercial berth if no ship in town. "In your footsteps" guide.
Ballycotton – A lovely picture postcard fishing village. Home of the Ballycotton lighthouse and famous lifeboat. Some nice pubs ashore and good restaurant just up the hill form the pier. A great fishing village with a long tradition – the sea's influence is everywhere. The world famous Ballymaloe House is just up the road in Shanagarry. You can only drop and collect at the steps in the harbour – there are some moorings outside. "In your footsteps" guide.
Cork Harbour–including Crosshaven, Spike, Haulbowline, Whitegate, Aghada, East Ferry, Rathcoursey, Ballinacurra, Cobh(pronounced Cove), Monkstown, Passage, Fota, Little Island, Cork City, and more……………….. blog later this year but In case you want to visit before I get around to writing the blog here is the link to"in your footsteps" More on Cork Harbour here
Special Pilotage evening "The Hidden Cork Harbour"
Oysterhaven- Unspoilt anchorage- no shore facilities – just peace and quiet! (Although half a mile up the western creek there is a hotel 5 mins walk up the hill!) The Sovereign rocks lie offshore and provide some protection from southerlies and make the entrance very easy to find. Nice and close to Kinsale. Jamie Dwyer has oyster and mussel beds here and the Oysterhaven Activity Centre is in the eastern creek. Be aware of the harbour rock! "in your footsteps" guide
Kinsale- One of the jewels on the crown! Historic town really well geared up for visitors. Tons of good pubs and great restaurants- my favourites are Crackpots and Fishy Fishy- and my favourite pub is Mary O' Neills "Tap Tavern" – others include "The Spaniard" and the "Bullman" in Summercove. There are three marinas, moorings and anchoring is possible (but watch the moorings and tide) Make sure you explore the town and "Charles Fort" at Summer Cove just over a mile outside the town. Kinsale Yacht Club is very active and runs the excellent bi-annual regatta- "the Sovereigns Cup". – this regatta is run every uneven year. Kinsale gets a little crowded at weekends especially during August. "in your footsteps" guide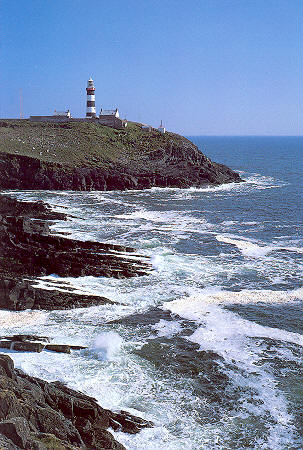 The Old Head of Kinsale – is like the entrance gate to West Cork. This lighthouse is set dramatically on cliffs on a long headland which is also home to a world class golf course.
There will be lots of fun to be had cruising with SailCork this year – either aboard "Holy Grounder" or you can join one of our "Cruises in Company" Read on for full information on West Cork … and don't forget to click the links to get full pilotage information courtesy of "In Your Footsteps"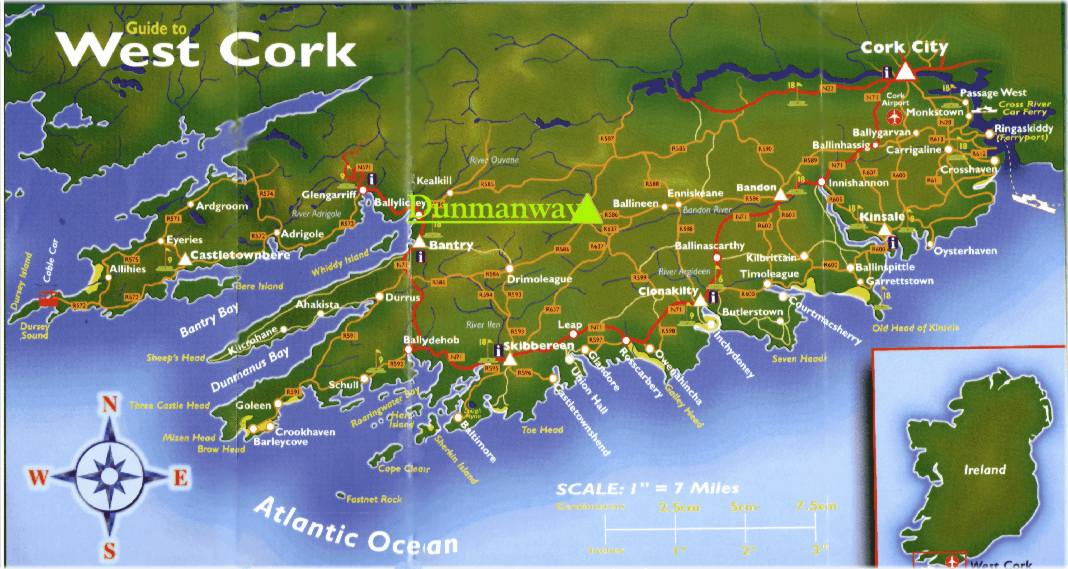 SailCork guide from Old Head of Kinsale to Mizen
See page on Cork Coast from Youghal to Kinsale
Courtmacsherry – A lovely sleepy fishing village on the estuary of the A river. Totally sheltered from the south it has a pontoon for overnighting at the village. Beware of entering if there is any swell near low water as the bar is very shallow. The tide is quite strong too especially a falling tide at springs if there is fresh in the river. There is a lifeboat based in "Courtmac" and there are 3 pubs as well as a hotel. It is a friendly holiday village and also has a small sailing school and good beaches nearby and lovely walks on the Seven Heads peninsula. "In your footsteps" guide.
Glandore and Union Hall. This is a beautiful harbour guarded by the islands Adam and Eve. Glandore has some beautiful big houses, a hotel and three pubs – two of which have a stunning view of the harbour. The pier is tidal but there are county council moorings off the pier. Glandore is open to the south but there is shelter further up the harbour off Union Hall. Union Hall has a fine pier but it is mainly for trawlers – ok to land there but best anchor off in mud and it's not too deep and very sheltered. The village is a real working fishing village and has a great atmosphere – plenty of pubs, a good shop and a few places to eat. See "In Your Footsteps" Guide
Castletownsend: Only a few miles west of Glandore Harbour – past Rabbit Island (mind the Belly Rock) inside Hight and Low Island and the Seal Rocks, past Blind Harbour and then in between Skiddy Island and Horse Island into Castlehaven which has the beautiful town of Castletownsend nestling on the hill about a mile in. It is very picturesque and totally unique – you can really see the English influence on the village. It is famous for Mary Anns pub and smashing restaurant …. and dont forget Lil Mc Carthys up the road – or should I say hill – the village is built on a really steep hill. Anchor off and row ashore to the slip. Interesting church here too – St Barahanes has Harry Clarke stained glass windows. See "In Your Footsteps" Guide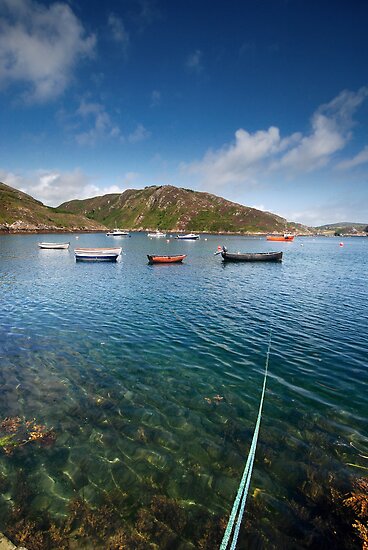 Barlogue: One of the really special anchorages anywhere in the world! This small harbour between the hill and Bullock Island is a little jewel and it leads into the magical Lough Hyne which has an unique marine life as it is a mix of salt and freshwater. You can enter in a dinghy at close on high water and come out with the rapids as the tide begins to fall! See "In Your Footsteps" Guide
Baltimore: The mecca of sailing in West Cork. Good anchorage but very crowded and not suitable for deep draught vessels (2.5 +)- they should anchor in Sherkin Island almost a mile away. The pontoon for lying alongside has shorepower,water and wi-fi and is run by the energetic, friendly Diarmuid Minihane. It is a two minute stroll to the best pub on the south coast of Ireland – Bushes Bar. Next door is the Jolie Briese pizzeria run by the Jacob family (who also run Jacobs Bar and Chez Youen). There is a bus connection with Skibereen which is only 6 miles up the Ilen River. There are lots of choices for good food and Cotters shop can supply your groceries and Gaz and diesel. Can be a bit of a gluepot! See "In Your Footsteps" Guide
Sherkin Island: This is only one of Carbery's Hundred Isles – all set in the area between Baltimore and Crookhaven – an area about 15M by 4M. Only Sherkin, Cape, Hare and Long Islands are inhabited all year round as well as some of the inner islands which have a bridge connection (Inishbeg and Ringarogy) The islands are a joy to sail to with silver beaches and a wild freedom shared only by seabirds, seals and the odd rabbit! Sherkin has a good marina and a pier as well as a hotel and the Jolly Roger pub. Great for walks and beaches. It is exactly a mile from Baltimore and provides excellent shelter when wind is from the SW, W or NW – especially if Baltimore becomes untenable.
Cape Clear Island: One of the most magical places on the south coast. Ireland's most southerly inhabited spot and only a stones throw from the famous Fastnet Rock. If conditions are from north or settled South Harbour is a great fjord like anchorage. North Harbour or Tra Ciaran is the busy hub of the transport system with ferries coming from Schull and Baltimore. Irish is spoken on the island and there are 3 pubs and a shop. The island has fantastic walks and great views of Roaringwater Bay. See "In Your Footsteps" Guide
Schull: A busy village with great shopping. The pier has water to lie alongside but there is a busy fishing fleet. Very popular with sailors during the summer. Home of the great Calves Week. Lots of pubs – a great school which teaches sailing as part of the school programme! See "In Your Footsteps" Guide
Crookhaven: Last stop before the corner! Just 7 miles from the Mizen it is a lively village with 3 pubs, a shop and a choice of eating places. O' Sullivans Bar is the spot – great for fresh shrimps! Lively dinghy sailing club, beaches, walks, county council moorings and a village pontoon for tenders. See "In Your Footsteps" Guide
Dunmanus Bay and Bantry Bay
The Mizen Head is the most south westerly point in mainland Ireland and beyond it lies some excellent cruising ground. Dunmanus Bay is the smallest of the bays on the south west corner of Ireland – Dunmanus, Bantry, Kenmare and Dingle………………
………………to be continued!!
More Courses You May Find Interesting